One Marconi Place information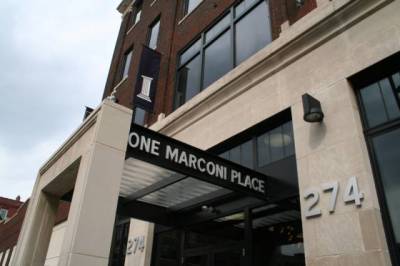 One Marconi Place is a multi-tenant office building with approximately 68,000 square feet of leasable space. The building was renovated and converted from warehouse into commercial office space in the early eighties. Since then, it has undergone continual upgrade and improvement. The tenants are a diverse mix of companies, with many in the high tech arena. The Baesman Group, BHDP Architects, Domedia, Dynamit, and others find OMP to be a productive home for their operations.
Please take a moment to familiarize yourself with our building and the Arena District. Nestled in the center of a huge five hundred million dollar urban backfill project, One Marconi Place has been in the office leasing business since 1982. Owned and operated by the Culberson Family since the 1940s, we have taken great care to be sure that the character and functionality of this great building still shines even as it is updated to accommodate the needs of modern offices.
The Arena District hardly needs us as sales people. However, it is difficult to not get excited and discuss the prospect of a bright and vibrant downtown for Columbus. Some of the hope for the area and it's numerous attractions, both current and future, is that it will begin the move towards a twenty-four hour downtown. For decades, the thousands of workers in the downtown Columbus area have left as soon as they punched out. With the addition of this entertainment district, as designated by the City of Columbus, this will hopefully change. More information about the district can be found in the content and through the links on the "Area Info" page, accessible through the button to your left.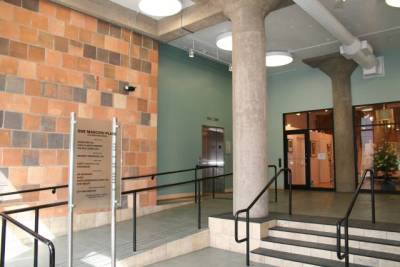 Our building has been used as one of the bases upon which the Arena District has been modeled. With red wire cut brick and Indiana limestone accents, we readily blend with the surrounding architecture. The difference is, our beauty is not skin deep. Inside, you'll find exposed brick and soaring ceilings, architectural cues and accents from the late 19th century, not the early 21st! Many tenants find that our building is exactly the mix of modern amenities and age-old good construction that they've been looking for.
One Marconi Place is owned and managed by Arena One, Inc. The management of the building is being handled by three Culberson brothers; Tom, Carl, and David. Service is quick and effective, with members of the family being on hand to assist you. In order to contact the Culbersons, please follow the "Contact" link in the menu bar to your left. Please, do not hesitate to contact us if you have any questions about the building or would like to arrange a tour.